Click here to take survey by Haughton Thornley Patient Participation Group
 Click here to see the Press Statement from Men's Health Week and scroll down to the bottom to learn what Haughton Thornley Medical Centres is doing to help you!
Dad's Most Common Signs of Fading Health
Here are the results for 52 patients who have completed the questionnaire saying which of these they have ever done.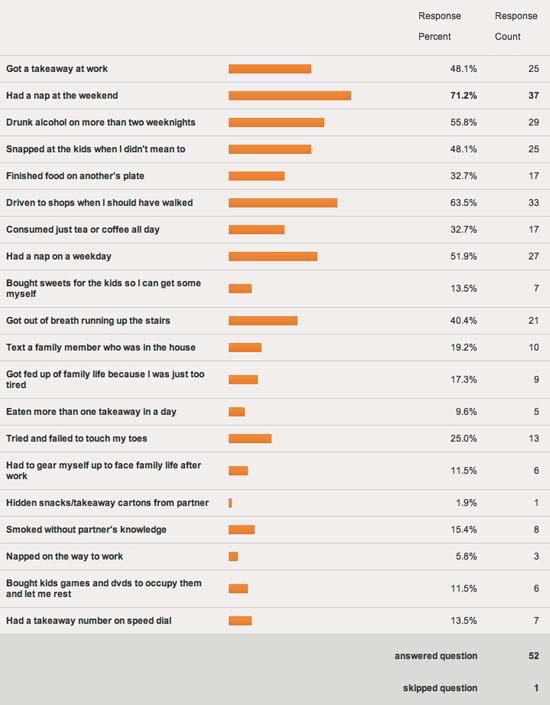 Would you like more information about how to look after your health? If so how do you want to know?
(One response completed by their family member on behalf of them)
What help is available for patients at Haughton Thornley Medical Centres
Patients can register for an NHS Health Check from 40 years onwards (note this is only necessary once every 5 years so not needed if you have already had one recently)
Smoking cessation via smoking cessation clinic – speak to receptionist who can book you in. Alternatively see Smoke Free and Quitline
Weight management via "Weight matters" which our practice staff do – one to one counselling weekly for 4 weeks to help motivate and support behaviour change to help lose weight.
Alcohol reduction – self-refer by contacting the Alcohol Drugs Service on 0161- 3431133 or look at the resources available Drink Aware / or try the Alcohol Self-Assessment under Healthy Living
Exercise is a great stress buster, helps with anxiety and depression, strengthens your bones and has many other health benefits that can help to counter-act the stress that can gradually build up over time. 30 minutes brisk walking is all that is needed to get the benefits. Have you thought about cycling too and go with the rest of the family also!
Learn more about heart disease and what to do if you have it by seeing a talk done by Dr Hannan in 2009 with the Heartlink Support Group
Ask your nurse or doctor how you can monitor your own health by doing some simple measures such as checking your own blood pressure, checking your weight regularly and doing regular exercise
Learn about "Hands-only CPR" the Vinnie Jones' way! Watch the 2 minute video and you could save someone's life one day.
Families help families. If you are worried about your dad / brother / son / grandson then do something about it TODAY. Learn to Self Care and share with others too! And even if this is about Men's Health week, it applies just as much for Women too! Let's help each other!
Get access to your GP electronic health records, see what your doctor or nurse has written about you, look at what your weight was, how much you were smoking and drinking, what medications you should be taking and why, gain a better understanding of your health and think about what you could be doing now or in the future.
Patients can always discuss any concerns they may have with the nurse or doctor too
YOU ONLY LIVE ONCE.